T-Funk's Hidden Talent
November 06,2017
Have you checked out T-Funk's new signature DC skate shoes? Did you know they were designed to look exactly like a pair of originals he created? Turns out skateboarding isn't Tristan's only talent. We caught up with the newly-appointed DC Pro to get some more details on this side hobby of his.
What made you start writing/drawing on your shoes?
T-Funk: I started drawing on my shoes cause I would end up having a bunch of pairs of the same color shoes and it got boring, haha
What are a few styles you've hung onto over the years? Do they have a certain significance or do you just like the designs?
T-Funk: I'm not sure if I've ever really stuck to the same design - I usually like them to be different from each other.Ii just be doodling 'n shit.
What's the weirdest thing you've ever written or drawn on a pair of shoes?
T-Funk: The weirdest pair was when i split my arm open and bled all over my shoes then decided that the blood was a sick design and kept wearing them, haha.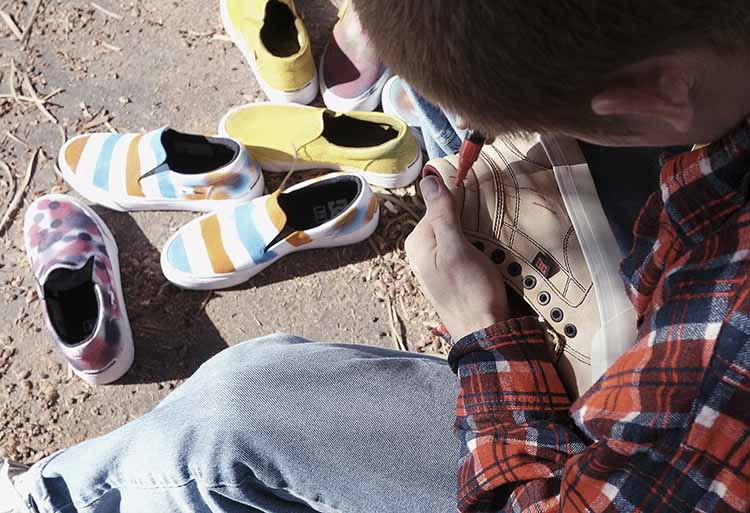 What kind of markers/pens do you use?
T-Funk: I usually just get decos and fine point sharpies and maybe spray paint.
Favorite colors to use?
T-Funk: My favorite colors to use gotta be green and blue.
What is it like to see one of your original designs come to life as a DC product?
T-Funk: It's fuckin' insane to see that man, I'm very grateful - that's all I've gotta say.
Snag yourself a pair of the DC x T-Funk Collab skate shoes today in our online store.